The latest version of PocoMail comes with built-in junk e-mail filters. Junk e-mail filters are a series of rules that detect whether an e-mail is spam or not. When enabled, these junk mail controls, along with any other filters you create, dramatically reduce the amount of spam received. PocoMail scans each incoming e-mail against the spam detection rules and assigns a number weight to each e-mail received. If the number weight exceeds the number required to activate the spam filter (50), PocoMail moves the message to the Junk or suspicious mail folder. To catch suspicious mail, you'll need to enable the junk filtering first.
Note: Always check your Junk or suspicious mail folder to ensure no legitimate e-mail is being labeled as spam.
The following tutorial explains how to enable and edit these controls. Do the following:
On the Toolbar, click Tools and select Junk Mail Filtering from the menu.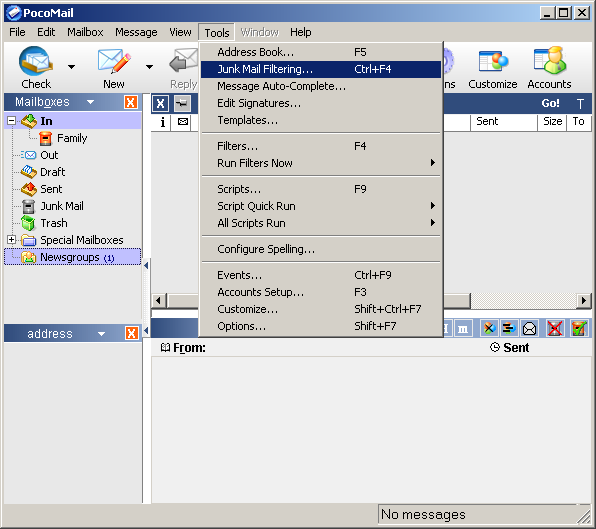 The Junk Mail Filtering window appears.
Configure Junk Mail filtering features:
Check the box Enable automatic Junk Mail filtering.
Select sensitivity level = Select your desired level of sensitivity from the menu.
Select the Status tab.
Although Junk Mail filtering has been enabled, it still needs to be fine tuned. The filters must learn which e-mails you consider to be junk and which e-mail you consider to be good. To help improve PocoMail's accuracy, right click each junk e-mail you receive and select Classify as Junk from the menu.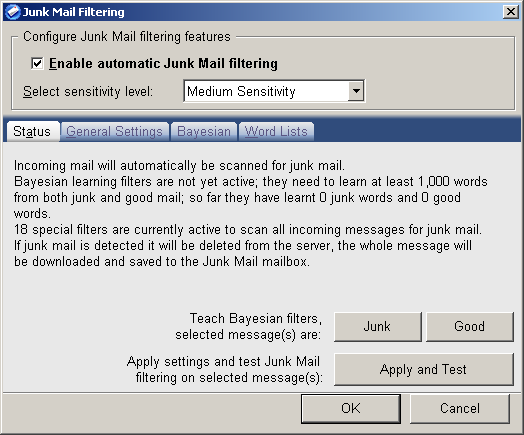 Select the General Settings tab.
Run automatic junk mail filters:
Select the option that best suits you.
If you select the option Before downloading message, the messages PocoMail labels as junk will be deleted before they're downloaded. Only the headers will be placed in the Junk mailbox. This can be bad if PocoMail labels good mail as junk.
If you select the option After downloading message, PocoMail places the whole message (not just the headers) in the Junk mailbox. With this method, you'll be able to check your Junk mailbox for any mislabeled messages.
Filter Settings:
Here you can adjust the sensitivity of the filter. The higher you adjust the sensitivity, the higher the possibility of PocoMail labeling good e-mail as junk. The lower the settings, the higher the probability of PocoMail allowing junk to pass as good e-mail.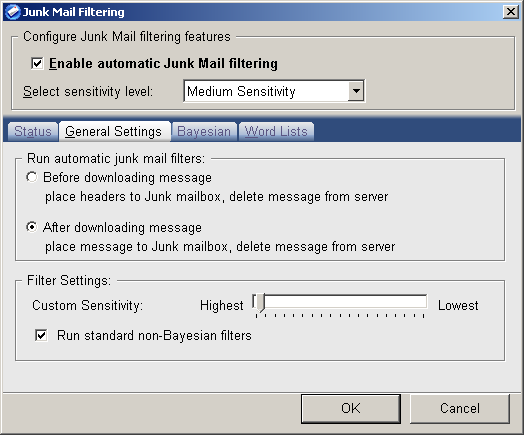 Select the Bayesian tab.
Here you can adjust the threshold level. With Bayesian filters, PocoMail can learn from the e-mail you label as junk and the e-mail you label as good. PocoMail labels each incoming message with a number weight. If the number exceeds the threshold, PocoMail will move the message to the Junk mailbox.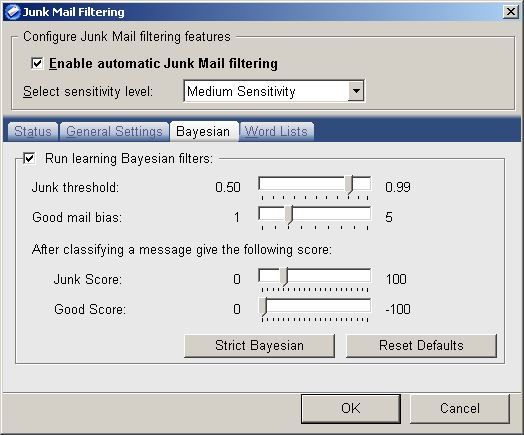 Select the Word Lists tab.
PocoMail also uses various word lists to help classify junk e-mail e.g., viagra, medications, etc. You can modify these lists by clicking on the appropriate button.
Click the OK button when finished.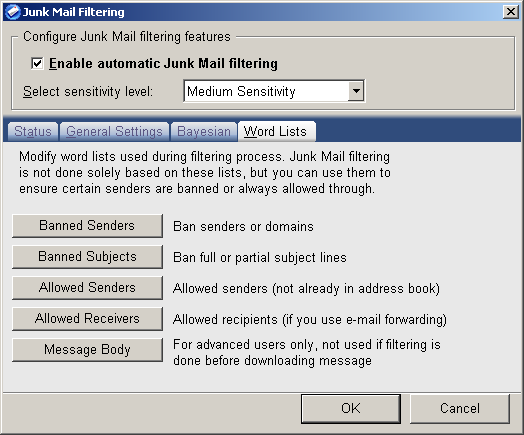 Links: Return to top